Jack Kennedy and the Rivamoto Honda Team have finished the 2013 World Supersport championship in a well deserved 7th position in the overall standings although the final race in Jerez on Sunday would see them fail to add to their already impressive points haul as a small technical problem hindered Kennedy from finishing higher than 16th after the 20 lap encounter.
Kennedy, who started 20th was quickly battling for the lower point scoring places but after a race long fight he would miss out by a couple of tenths of a second, an overheating brake disc may have hindered Jack's progression.
Nevertheless the team can be proud of their achievements this year and are excited at what 2014 holds.
Looking ahead to next season, Rivamoto will be fielding a new rider after announcing shortly after the race that Kennedy would be taking up a new challenge when the World Supersport championship resumes at Phillip Island, Australia in February.
With a new rider now being sought, the team will be testing immediately and ask anyone interested in learning more about Rivamoto's plans to contact them on the contact details below.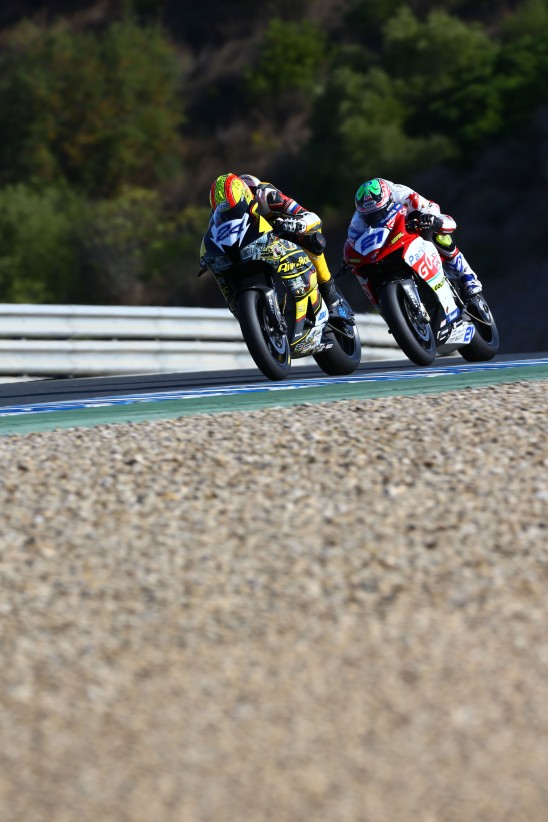 Jack Kennedy – 7th overall in the 2013 World Supersport Championship: "I made a good start for once and was soon up to 15th and feeling good until the front started to tuck everywhere and the bike started to overheat due to the front brake sticking on which made it near impossible ride or improve position. I brought the bike home safe but slipped to 7th overall in the championship which is frustrating. I have to be happy though with 7th in the World championship in my rookie year and I will be looking to improve a lot in 2014. I want to say a big thanks to Jeremy and the whole Rivamoto team for doing a top job this year, and of course all my personal sponsors and family."
Jeremy McWilliams – Team Manager: "The whole team are delighted with a top 10 result in the championship. Jack has excelled in his rookie World Championship year finishing 7th overall against very experienced teams and competitors. This speaks volumes, not just for Jack but for our team. Rivamoto have come a long way since I joined them and we have improved year on year. We would have loved to have been able to offer Jack a place within Rivamoto for 2014 but we are unable to do due to financial constraints, so we need to find a number one rider. We have had an enjoyable year working with Jack Kennedy, his parents and his sponsors and we wish him the very best for future. We are all convinced that he will have a very successful one. The whole team extend their thanks to Jack for his efforts. We plan to start testing immediately and hope to be able to announce our 2014 plans shortly."
Contact Details for Rivamoto: Jeremy McWilliams – jmw@rivamoto.com or Kostja Zotov – zotov@russiamoto.com