The final round of the 2013 World Supersport championship got underway at a sunny Jerez circuit in Southern Spain earlier today with Jack kennedy and the Rivamoto Honda team looking to end their already impressive season a high.
Coming into the final round, Kennedy lies 6th overall in the championship standings and, unlike a lot of the circuits visited this year, actually has ridden at the undulating track before.
The day began positively with Jack showing a lot of promise in the opening Free Practice where he ended an encouraging 8th position overall.
With conditions a little cooler but still sunny for the afternoon qualifying session, Jack worked hard on race set-up and worked even harder on a tyre choice that would see him able to fight till the end of what will be a tough 20 lap race on Sunday afternoon.
With 13 minutes of the session remaining, Kennedy was sitting 16th overall on the provisional grid, but after a couple of changes which improved things and after his usual last minute push Jack jumped immediately to 14th only to be balked by a slower rider on his final lap, when he was looking like he had the pace for a top 9 grid slot, which halted any chance of improving further.
The team will now regroup overnight confident that they made steps in the right direction and providing that the predicted rain stays away, are looking forward to climbing further up the grid in final qualifying.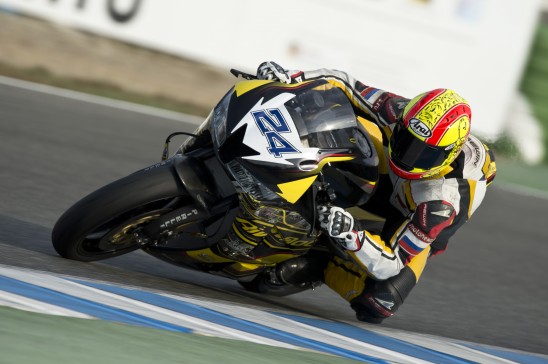 The teams other rider Edik Blokhin, improved his times from this morning's session and is currently 32nd on the provisional grid after the opening qualifying session.
Jack Kennedy: "The first session was pretty good. We were P3 for most of it before slipping to 8th but we were lapping consistently. We didn't improve like we needed to this afternoon in qualifying which is frustrating. We have been juggling with gearing and tyres and we still haven't found an ideal compromise. It's not where I want to be but me and the team will work hard overnight to make things better for tomorrow's all important final session."
Final qualifying is scheduled to take place tomorrow at 1635 local time.