American teenager Jayson Uribe rode brilliantly all weekend, claiming his best ever BSB Motostar qualifying position on Saturday before backing it up with a determined ride to a career best race result on Sunday, claiming 8th at the flag.
The Silverstone GP circuit is almost 3 miles in length and the longest on the calendar and, it reminded Jayson of his home track in Willows, CA.
It's fair to say that Rock & Sons Racing experienced an amazing weekend, with no technical or mechanical issues, allowing Jayson and Crew Chief Ian Emberton to focus on dialing in the suspension and gearing for the track without any interruption from the very first session.
Running as high as 5th, Jayson qualified an impressive 10th and despite not making the best start of the year when the lights went out on Sunday, rode maturely and aggressively to pick up eight well deserved championship points, much to everyones delight.
Jayson Uribe – "My race had been shortened to 8 laps due to a crash in an earlier race, so it was a sprint, for sure.  Laps 1 to 6 came and went without incident. I had some great battles with Elliott Lodge and Milo Ward.  At the checkers, I was able to claim 8th in my class, which was a victory for my entire family and race team. Now we are preparing for my journey to Spain to try out for the Red Bull Rookies Cup.  We will be missing part or possibly all of the qualifying sessions for Brands, but I still believe I can achieve my goal of a top 15 finish their in a couple of weeks. Thank you to the race fans who took the time to stop by our pit this weekend. We had a fun time with you!"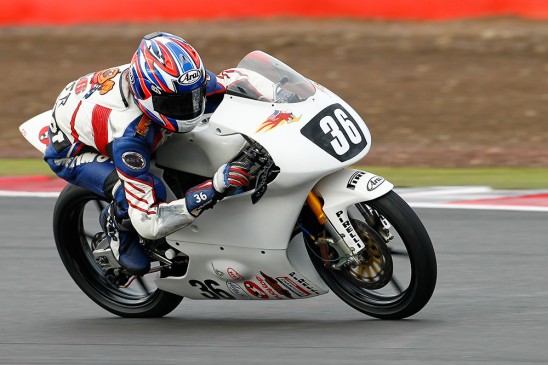 Yesterday's result moves Jayson into 10th position overall in the BSB Motostar championship with an impressive tally of 58 points. With one round remaining, Uribe remains the only rider in the field to score points in every race!
photos courtesy of bikesportpics