The penultimate round of the 2013 World Supersport championship was held in thankfully dry conditions at the Circuit Magny-Cours near Nevers in France this afternoon.
Starting from 20th position on the grid was always going to make things difficult for Rivamoto Honda's Jack Kennedy but the detetrmined Dubliner rode sensibly in the opening laps, avoiding incident before steadily making his was towards the point scoring positions.
By the end of lap 3 Kennedy had muscled his way into 15th, then 11th before starting to reel in the battle for tenth. The charge was halted however after a red flag with 4 laps remaining.
Edik Blokhin was able to complete the race after his qualifying crash, while Jack salvaged 5 points with his eleventh place finish at the flag.
With just one round remaining, the Rivamoto will head to the season finale in Jerez, Spain in two weeks lying 6th overall in the World Championship standings.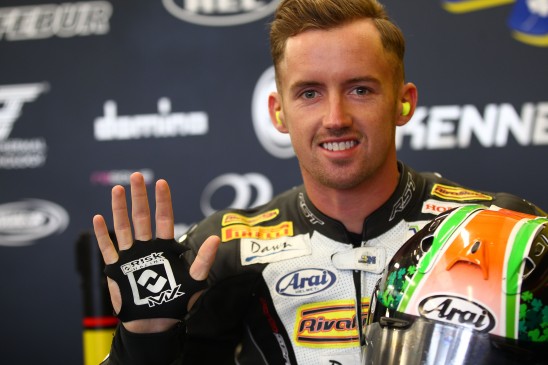 Jeremy McWilliams – Team Manager: "The positives are that Jack found some pace in the morning warm up and actually got to grips with the track, so we knew that some good points were possible in the race. In the race Jack did all he could really after having to start so far back on the grid. His determination moves him into 6th position in the World Championship which is a great achievement for all concerned and gives the whole team a great buzz with just one round remaining."