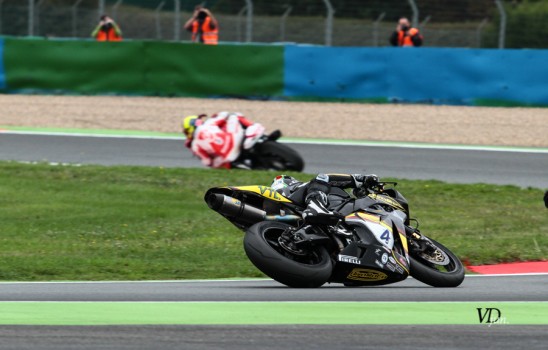 Final qualifying for the penultimate round of the World Supersport championship at the Magny-Cours circuit in France was almost over before it had begun as both Jack Kennedy and Edik Blokhin fell from their Rivamoto Honda's early in the session.
With the track almost dry following a morning of consistent rain fall, Kennedy and Blokhin were excited at the prospect of a strong showing in qualifying after an equally strong showing in the morning Free Practice session which was held in very wet conditions.
With both bikes back in the garage, the Rivamoto squad sprung into action but were only able to repair one machine in the time remaining and with less than 8 minutes remaining, Kennedy ventured back out on track nursing minor injuries to his wrist and elbow.
Improving his personal best lap time almost immediately, the red flags came out following a crash to multiple Supersport champion Kenan Sofuoglu meaning a starting position of 20th and 33rd respectively for Kennedy and Blokhin.
The weather forecast tomorrow is looking slightly brighter and with this in mind and a final warm up session to make some last minute tweaks, the Rivamoto team are hoping for better luck when it counts, in the 22 lap race.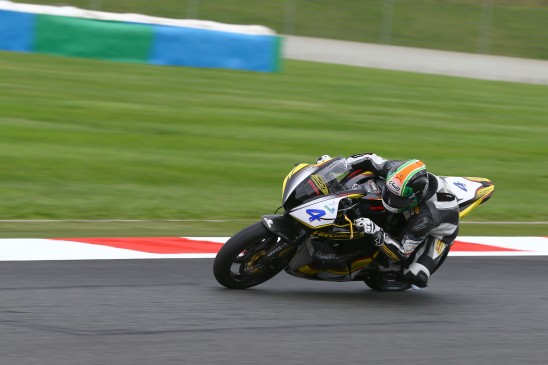 Jack Kennedy – "That was a really unlucky session. I got hit by another rider and lost most of the session. We got the bike back but I just wasn't able to improve any further in the time we had left. I'm sore and in a bit of pain from the crash, but the team did a great job to get me back out so thanks to them. I need a good start for once tomorrow and as always I will be doing my best."
Jeremy McWilliams – Team Manager: "As Jack said that was one of the unluckiest sessions that you could have with both riders crashing. Edik crashed after only just touching the astro-turf which is something that needs to be looked at for the future in terms of rider safety and Jack was taken out by someone else on the opening lap. The team did a great job but we were only able to get one bike back out. It's not ideal but at least we have the chance now to put everything back in place for both riders tomorrow and the good thing is that both riders are not hurt."