Italy's Alex Baldolini once again showed Suzuki's pace in this years World Supersport championship, riding his Suriano Racing Team machine to a hard fought 11th position at the Nurburgring in Germany.
Baldolini who was inside 10th in the final free practice on Saturday, was unlucky to be denied the chance of replicating his lap time when it mattered, as afternoon rain washed away any hope of improvingin final qualifying meaning a 6th row of the grid starting position in 18th.
In the race however, Alex proved once again that the combination of a good start, sheer determination and Suriano Suzuki power is more than a match for the front runners in the World Supersport championship as he eased his way into the front group by half race distance, fighting hard with a number of riders in a titanic battle that would rage until the chequered flag.
It's clear to see that the renewed partnership of Baldolini and the Suriano Team is working and everyone involved in the Suzuki World Supersport project is hopeful of further front running outings in the remaining 3 races.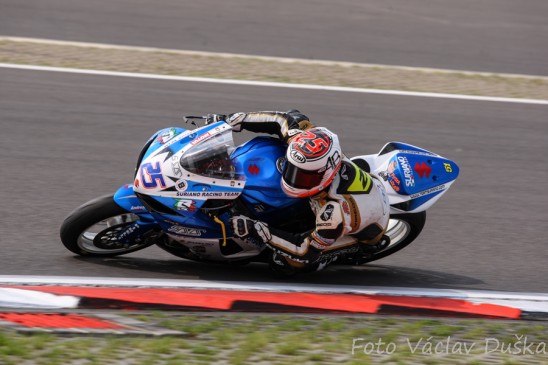 Alex Baldolini – 11th position: "On Friday we lost a little bit in terms of set-up as this is a new bike for us, so we have no data but this is normal. It rained in final qualifying on Saturday so that meant I had to start from 18th which was a shame as we made some good steps forward in free practice. We had a real good pace but with the conditions in the afternoon it was impossible to improve which made the race more difficult. I made quite a good start and was soon in a fight with Kennedy and Salom. We ended the race only 10 seconds from the podium and I am sure I lost a lot of time in the early laps overtaking. I'm not sure how much higher we could have been but I am happy with the race performance even if the end result doesn't show our true speed this weekend."
The next round of the 2013 World Supersport championship takes place in Istanbul in Turkey in a fortnight before moving on to the final two races in France and Spain.
photos courtesy of Vaclav Duska Junior