The official qualifying session for the 6th round of the PATA European Junior Cup powered by Honda was held in less that ideal conditions, as spots of rain were falling just as the riders left pit-lane.
As we have seen throughout the year, the PATA European Junior Cup provides excitement in every session, and the threat of rain only added to the unpredictability of the final grid outlook, with any one of 20 riders in with a realistic shout of taking Pole Position.
As expected, qualifying was incident packed from the word go as yesterday's pace setter Javier Orellana was a faller on his first flying lap leaving the unlucky Spaniard the prospect of starting tomorrow's race from 34th and last on the grid.
The early front runner was Britain's James Flitcroft, who put in a time just shy of yesterday's Free Practice best set by Orellana. The British rider, who was one of the fallers yesterday showed all the signs that his speed from his home round at Silverstone was by no means a one off as he improved still further with his next circulation.
With 13 minutes to go it was current championship leader Jake Lewis (New Zealand) who hit the front albeit for a matter of seconds as multiple pole position man Guillaume Raymond posted the fastest lap of the weekend.
With the threat of rain now gone, the remaining ten minutes saw the usual frantic swap of places and a number of surprises in terms of the final grid line up.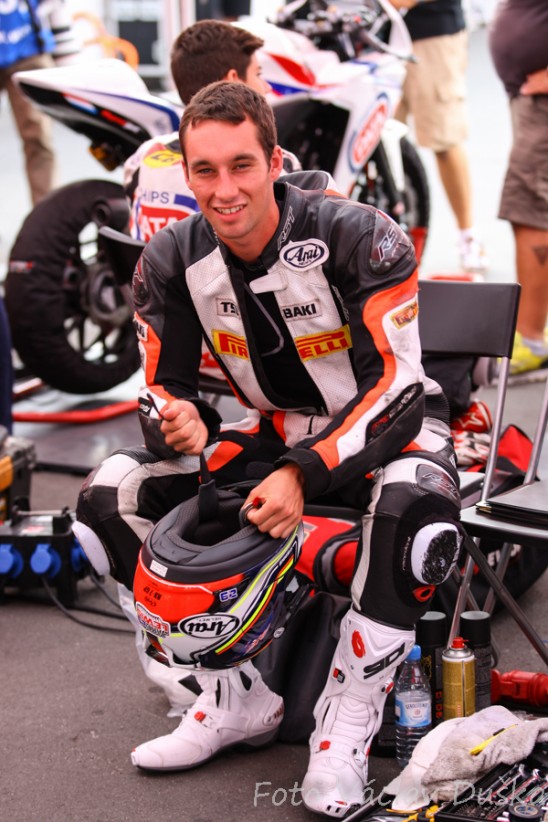 Lewis eventually grabbed the Pole Position with a new circuit best lap ahead of Italy's Michael Canducci who produced a great final lap to grab second. Raymond's earlier lap was enough to keep him 3rd, the Frenchman content with his front row start.
Row two will see Robin Anne (France), wildcard Bo Bendsneijder (Netherlands) and Italian Kevin Manfredi who also improved late in the session.
Spain's Augusto Fernandez will start 7th just a fraction of a second ahead of Hungarian Richard Bodis who is also looking strong again in Germany.
Kiwi Sam Croft was one of the revelations of the session improving from 21st yesterday to complete row three in 9th.
Alex Wisdom (USA) fell early in the session as did Italian Riccardo Filippini, Blayes Heaven (Great Britain) local rider Marcel Schulthiess, Belgium's Charly Eberhard and Brazilian Sabrina Paiuta.