American teenager Jayson Uribe put a difficult qualifying session behind him to grab a valuable 5 points and an 11th place finish in the latest round of the BSB Motostar championship at Brands Hatch yesterday.
Returning to the Brands Hatch circuit in Kent proved to be tricky at times for the talented youngster who was left 20th on the grid after a technical problem but the determined youngster once again rode hard to gain another strong finish for the Rock & Sons team at the flag.
Race day dawned with clear skies, and once again Uribe made a lightning start completing the opening lap inside the top 15. Running once again with a standard cylinder, the long fast sections would prove frustratingat times, but lap by lap, Jayson used his natural cornering ability to remain in the fight for the top ten.
At the flag, it would be 11th position for the Rock & Sons Honda rider, a great result which closes the gap to those riders ahead in the overall championship standings to a handful of points, and with half the season still to run, you would be hard pressed to bet against a top ten finish for the BSB rookie when the curtain falls on the 2013 season.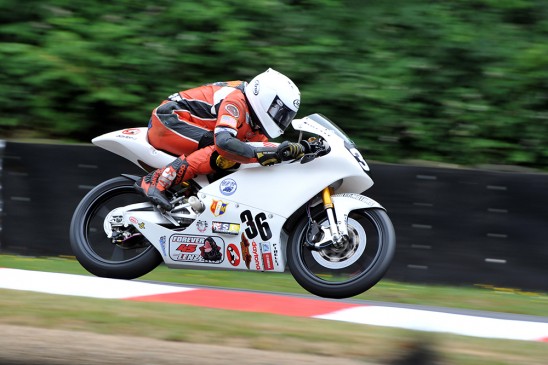 Jayson Uribe – 11th position: "I just didn't have as much confidence at this track and it took a little longer than usual to start laying down consistent lap times. I suffered a mechanical issue in qualifying which left me 20th on the grid that I wasn't thrilled about. On Sunday however, I woke up with a different attitude as I realised that if I didn't change my outlook, I wasn't going to improve. My mechanic, Ian Emberton and I reviewed our data and had a chat about relaxing and he told me to just let my natural riding abilities take over. At race time, which was approximately 2:15 p.m. on Sunday, the weather was overcast and a bit breezy.  The crowds were larger than last time at Brands and I was excited to be able to race the GP circuit.  I had great start, immediately moving from 20th to 14th by the first corner.  I was happy with my corner speeds onthe back section of the course, although it was hard at times on the straights to compete with some of the faster bikes.  Overall, I finished 11th in the 125's, with an overall finish of 15th for the Motostar class.  I am currently 4 points out of 10th place for the overall Championship and I am looking forward to Oulton Park.  I enjoy that circuit and am confident that we can be strong again there."
After splitting from their original BSB team and running under their own banner with Ian Emberton at the helm, the progession towards the front of the field is clear for all to see. The current results reflect the lack of power that the Rock & Sons machine currently has but gives Jayson the best tool to learn the UK circuits and improve on his corner speed and braking.
Overall, things continue to look good for Jayson who is one of only 3 riders to score points in every race!
Championship Standings after Brands Hatch.
1st – Tom Carne, 111 points
2nd – Arnie Shelton, 86 points
3rd – Peter Sutherland, 76 points
11th – Jayson Uribe, 28 points
The next round of the BSB Motostar championship takes place at Oulton Park on August 11th, 2013.
photos courtesy of Ian Ward at Bikesportpics