Rivamoto Honda had their best day one performance of the year, in opening qualifying for the Russian round of the World Supersport championship at the Moscow Raceway earlier today with Jack Kennedy securing 7th and Edik Blokhin rewarded with 29th provisional on the grid.
The weekend got off to a winning start for the team with Edik taking victory in the media event yesterday which saw a selection of the championship's riders arm themselves with paint brushes to decorate ceramic plates using the traditional Russian "Zhostovo" technique.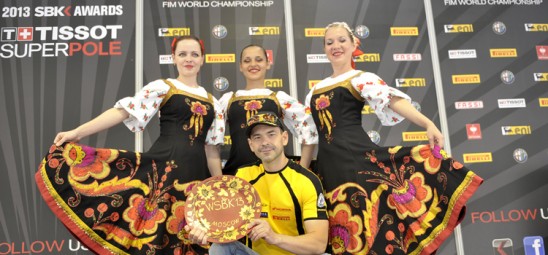 After an impressive 3rd position in the day's opening Free Practice, Jack Kennedy was once again the revelation of the day after grabbing a provisional third row start at a circuit he hadn't seen until 24 hours ago.
It was an unusual session in some ways with Kennedy spending a lot of time in the garage but with 17 minutes to go, and in typical Jack style, the Rivamoto Honda rider elevated himself to 5th position where he would remain until the final moments of the session.
Despite just losing out to Alex Baldolini and Michael Van Der Mark on the last lap, Jack and the team are satisfied with the results achieved today and go into tomorrow's final qualifying session full of optimism.
Jack Kennedy – 7th on the provisional grid: "It's been a great first day here in Moscow. The track is very tight and twisty but I'm getting the hang of it. P3 in practice which was great and we went quicker in q1 this afternoon but ended up 7th. It was a busy session for us, I had a massive moment on a new (dud) tyre, then a little rain at the end when we were on our softest tyre didn't help! Gotta be happy though, my first time here and provisional 7th!"
Edik Blokhin put in his strongest opening day performance ending the session in a respectable 29th position overall.
Jeremy McWilliams – Team Manager: "We are all satisfied with a couple of decent grid positions which seems to be what we've come to expect, but we all want to get the best out of our bikes and I'm not convinced we are there just yet. We hope to make some progress for tomorrow's sessions and we have some ideas in what direction we want to go. Jack has again shown he doesn't need any time to learn new tracks, he finished FP1 in 3rd position so if the bike improves a little we will be in a strong position for Sunday."
Final qualifying is scheduled to take place tomorrow at 1605 local time.