Racing Team Toth rider Alex Schacht overcame two days of technical misery to finish a respectable 20th position in the World Supersport race at Imola this afternoon.
The Danish youngster who continues to adapt to life as a rider in the World Supersport championship rode hard to claim a well deserved top 20 finish at the flag.
Benefiting from a restart to the race after an earlier incident, Alex soon moved from the 32nd position that held at the start into the top 25 and spent most of the race locked in a titanic battle with his team mate Imre Toth and fellow Superstock 600cc graduate Nacho Calero.
At the flag he would finish just behind his more experienced team mate but had the satisfaction of beating his former Superstock challenger on the final lap.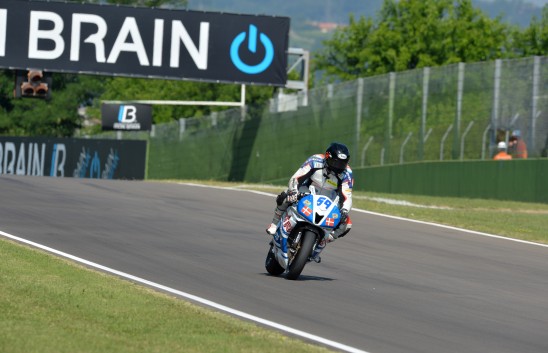 Alex Schacht – 20th position: "The race was actually quite good. I had a good fight with Imre and Calero. I made a mistake on the last lap which stopped me from attacking my team mate on the run to the flag but I will try again in Russia. It's been a great job by the team this weekend as we were missing a couple of mechanics so a big thanks to them."
Round 8 of the World Supersport championship will see Alex tackle the Moscow Raceway in Russia in 3 weeks where he is hoping that the bad luck from the first half of the season is well and truly behind him.