Guillaume Raymond from France became the first rider to convert a Pole Position into a victory this year in the 4th round of the PATA European Junior Cup powered by Honda at Imola this afternoon and with it a slender championship lead.
Kiwi Jake Lewis made the initial best start leading for most of the opening lap from the outside of the front row of the grid but as the tightly packed grid completed lap one it was local rider Kevin Manfredi who headed the field with Lewis and Britain's James Flitcroft in hot pursuit.
Pole Sitter Raymond didn't make the best start ending lap one in sixth but by lap 3, the Frenchman had edged in front.
Josh Harland crashed out of the top ten just before half race distance was completed, thankfully without injury.
As the riders began the second half of the race a leading group of 12 were tightly bunched as Richard Bodis and fellow Hungarian Peter Sebastyen recorded the fastest laps of the race at that point to join the party at the front of the field, dragging Andrea Zanella (Italy), Hannes Soomer (Estonia) and Alessandro Zaccone with them.
Jake Lewis tangled with Adrien Pittet at the end of lap six, the pair unable to continue. The crash split the leading group and with just one lap to go Raymond, Manfredi, Michael Canducci (Italy), James Flitcroft and Richard Bodis less than half a second apart.
Into the final chicane and Canducci and Manfredi both went down leaving Raymond clear to take the victory ahead of an ecstatic Richard Bodis and Augusto Fernandez making the most of the last lap carnage to grab the final podium position.
4th place went to the fighting James Flitcroft who produced his best result of the season while Illan Fernandez (Spain) and Peter Sebastyen completed the top 6.
Javier Orellana (Spain) was back in the points with a 7th place finish ahead of Hannes Soomer (Estonia) who picked up his first points of the season in 8th. Robin Anne grabbed 9th and Ali Adriansyah Rusmiputro rounded out the top ten.
Further down the field Norwegian Stinius Viking Odegard also picked up his first championship points with a fine ride to 14th position.
In the championship only 25 points cover the top 11 riders at the half way point, giving us the prospect of an equally exciting second half of the season.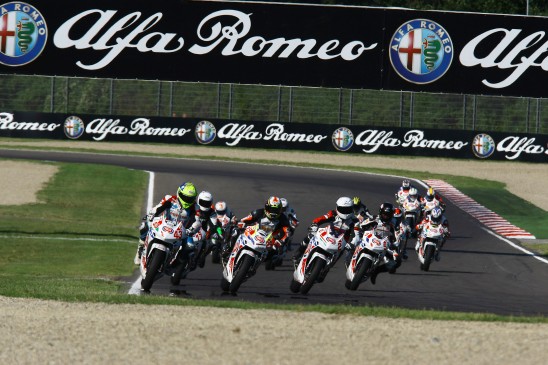 Championship Standings After Imola:
1st: Guillaume Raymond, 48 points
2nd: Michael Canducci, 46 points
3rd: Robin Anne, 45 points
4th: Jake Lewis, 41 points
5th: Augusto Fernandez, 36 points
6th: Peter Sebastyen, 35 points