Jack Kennedy took his Rivamoto Honda to 13th position at the flag after a tough world supersport in Imola this afternoon.
Starting 22nd on the grid after a qualifying crash, the race was always going to be hard but a red flag after 5 laps meant an improved grid position when the race finally got underway again.
Jack made another good start and was up to 12th battling hard with a group of seven riders.
Three laps into the race a small brake problem slowed Jack's progress and made the Rivamoto Honda difficult to ride as Jack had to adjust his braking distance. Jack being the fighter that he is stuck with the problem despite not being able ride at 100% to score another valuable 3 points and consolidate his 8th position overall in the World Supersport championship.
Edik Blokhin was classified in 23rd position.
Jack Kennedy – 13th position: "It's been an unlucky weekend. It started out great but then the bad luck came. In both parts of the race I had a brake problem which started half way through the first part and after 3 laps in the second. The bike was hard to ride as I was having to adjust the lever. I lost the front end a few times and almost crashed. I am happy to get 3 more points under the circumstances and we will move on to the next race in Russia. The whole team have put in a great effort this weekend so a big thanks to them."
Jeremy McWilliams – Team Manager: "We have had no mechanical problems all year and then here a 10p part costs us with the brake. I am disappointed for Jack as he had so much more to give but was unable to ride at his full potential. Many riders would have stopped but Jack being Jack he stuck it out and still brought the Rivamoto Honda home in the points and kept hold of his 8th position in the Championship. The whole team worked hard this weekend and with Edik in 23rd we have to be pleased with both riders finishing.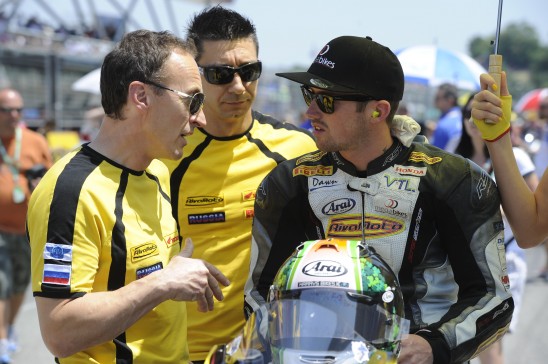 Championship Standings after Imola.
1st: Sam Lowes, Yakhnich Motorsport – 140 points
2nd: Kenan Sofuoglu, MAHI Racing Team India – 106 points
3rd: Fabien Foret, MAHI Racing Team India – 85 points
8th: Jack Kennedy, Rivamoto Honda – 47 points
Round 8 of the championship takes the team to their native Russia in 3 weeks.