Jack Kennedy powered his Rivamoto Honda to 9th position and the provisional 3rd row in the opening qualifying session for round 7 of the World Supersport championship at Imola this afternoon.
The Dublin based rider who has never ridden at the historic Italian circuit once again proved his talent by ending this morning's free practice in an encouraging 8th position overall, backing it up with an impressive penultimate lap charge on a new tyre to slot back into the top ten at the end of qualifying.
The Rivamoto team took less than 75 seconds to change tyres and with only 8 minutes left, Jack headed back onto the track. Instantly quicker than his previous best, it looked as though the top 6 was possible until half way around his final lap he caught some slower traffic which halted his upward charge.
As Jack continues to familiarise himself with the undulating nature of the Imola circuit and with less than 0.1 seconds separating Kennedy from the 2nd row, both he and the team are optimistic of further improvement tomorrow.
Rivamoto's other rider Edik Blokhin improved throughout the qualifying session and was unlucky to just miss out on the qualifying limit.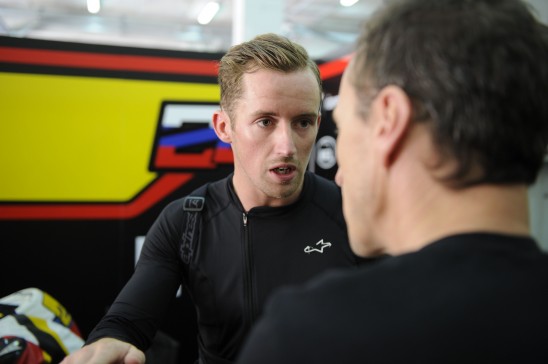 Jack Kennedy – 9th position: "What a great first day. The team have done a great job, they have worked a lot of hours to get us ready and able to fight for this position so full credit to them. I have really clicked with Imola and I am enjoying riding the Rivamoto Honda here. We went the right way with set-up which has helped. We will try a couple of things in free practice tomorrow and fight to improve in final qualifying."
Jeremy McWilliams – Team Manager: "I am a little disappointed for Edik as he was so close on his final lap. He has the speed to make it into the race and he showed this at the end, so we need to work with him to get him up to speed earlier in the session. On the other hand, Jack has done a great job once again. To come to another new track and be easily inside the top ten is impressive. As a team we have come here with something new, so we treat this morning a little like a test. You aren't normally quick when you start with something new so this gives the whole team encouragement that we won't be left behind on the development front. It's a little frustrating that he got caught up with traffic but we know there is more to come tomorrow.
Final qualifying takes place tomorrow afternoon.