American teenager Jayson Uribe secured another top ten finish at Knockhill, Scotland yesterday in the 4th round of the BSB Motostar Championship.
The talented youngster who is now based in the midlands after re-locating from the states battled hard to secure his second consecutive top ten finish aboard his Rock & Sons Honda machine.
The weekend got off to a great start on Friday, with Jayson quickly adapting to the short and twisty Knockhill circuit.
Saturday started wet, the Scottish circuit once again throwing rain into the mix. Relishing the conditions and the chance to show what the Pirelli rain tyres could do, Jayson was not only confident but fast. After 13 quick laps, he made a small mistake into turn 1, which messed up his entry into turn 2. Tucking the front, Uribe slid from his Rock & Sons Honda, thankfully unharmed. It was not a serious crash, but it did affect the provisional grid position.
The team worked hard, removing grass and other debris from the crashed machine before just four hours later, the rain had stopped and everyone was looking forward to a dry final Qualifying session.  A respectable time of 57.114 secured 12th overall on the starting grid for Sunday's race.
Starting from 11th position, as another rider had a mechanical issue and had to drop out Jayson's start was ok, and as the field headed into the downhill turn one he charged hard up the inside, passing 5 people.  Riding defensively and smart, Jayson was locked in a frantic battle from the off and by lap 12 was in the middle of a solid battle with 3 other riders, trading paint and passing at every possible corner.  This battle raged until the flag which resulted in Jayson picking up another top ten finish!
Jayson Uribe – 10th position at Knockhill: "I had a great race weekend up in Scottland at KnockHill Circuit. This weekend my personal goals were to learn the track quickly and get another top ten finish and with the help of my team, we were able to manage it. At the end of the free practice on Friday my best time was a 57.858.  By the end of the race, I was able to get my lap time down to a personal best of 56.909! I would like to thank two new sponsors who have joined our program.  Grgich Hills Estate from Napa Valley, California (my home town!) and Speight Engineering from York, United Kingdom.  Thanks for welding the cart Dean! I am looking forward to Snetterton in two weeks, it is another new track but I am sure we will continue to improve our program. I will hopefully get to make more friends in the BSB paddock!"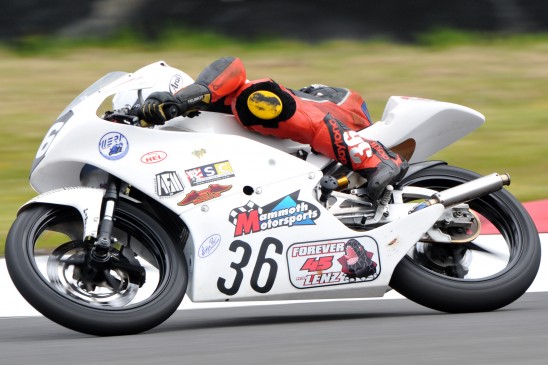 Jayson also wants to thank everyone for all the help and support that has been shown to him and his family over the past months; and recognises that he wouldn't be here without you!
Having scored points in every round of the season so far, Jayson sits an impressive 11th overall in the championship standings.
photos courtesy of Ian Ward @ www.bikesportpics.com