The PATA European Junior Cup is renowned as being the breeding ground of future champions and over the past few seasons we have seen the grid numbers increase as riders from all corners of the globe compete in one of the most popular championships for young riders in the world.
This year's series continue to run alongside the prestigious eni World Superbike championship, and with Honda providing their all new CBR500ccR machine it gives 35 young chargers the perfect opportunity to impress in front of some of the most recognised teams within motorcycle road racing.
Teenager Connor London is one of those riders, and as the season heads to Imola for round 4 we review the Kiwi's season so far.
27th in Aragon was backed up by 24th in Assen while in Monza for round 3, the likeable Kiwi finished a respectable 21st, narrowly missing his first championship point by less than a second. The results clearly show that Connor is moving in the right direction.
In addition to competing in the PATA European Junior Cup, Connor is making the most of some additional track time in Europe by contesting the Italian Trofeo Motoestate championship. A 2nd place finish at Verano is the highlight so far but with several races still to come, and several podium results already achieved, that elusive first victory cannot be far away.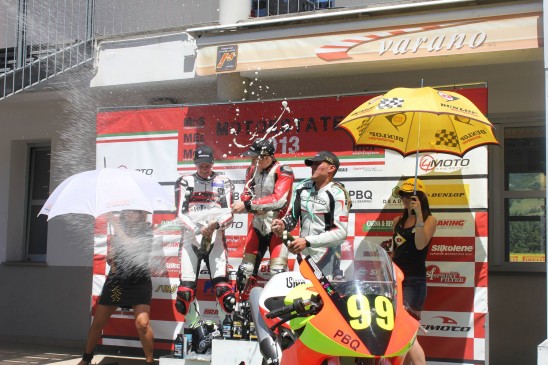 Off track, Connor is one of the politest and charming young riders, always smiling and always very appreciative of the help given to him in order for him to compete.
Connors parents Phil and Cheryl naturally support their son but are no strangers to assisting up and coming young talent in a variety of sports, not just on two wheels. They run a variety of initiatives and sports programs in their native New Zealand which gives a chance to those youngsters who may not under normal circumstances get the chance to compete in the sport of their choosing.
Phil London: "JETS provides students at Green Bay High School, who have already demonstrated the necessary drive and self-motivation in their chosen sport, the opportunity to compete at the highest possible level. Basically they will find out if they are "good enough" to compete internationally. And not be left wondering 'if only'. JETS will provide funding, coaching and support but they still have to go out and perform."
Academia is a big part of the structure and with the launch of their new JETS program a matter of weeks away, sports federations across the globe would do worse than follow the London's example.
With the European Junior Cup not supporting the World Superbike championship at both Donington Park, and in Portimao, Connor (a former student at Green Bay High School, West Auckland), will be back in action at historic Imola in a fortnight, where if lady luck is smiling, a point scoring finish could very well be on the cards.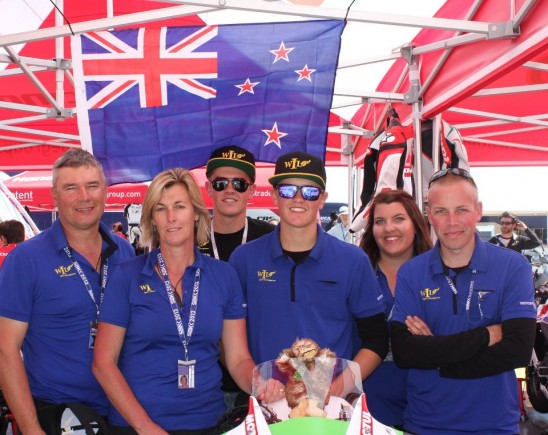 Michael Hill (MH) caught up with Connor (CL) in the break between races:
MH: Why did you get into racing?
CL: My good friend Daniel Mettam raced 125GP in New Zealand and I always used to go and watch him in Auckland. He got the opportunity to race in the EJC in 2011 and my parents sponsored him. I have always loved motorcycles and one day Daniel took me down to the local go kart track and I had a go on a bucket bike (Suzuki FXR150). I loved it and raced ever since then.
MH: What is the biggest challenge that you found since joining the EJC championship this year?
CL: A challenge for me coming over here was getting used to the tracks. They're so flowing and fast compared to those in New Zealand. The biggest challenge for me is adjusting to the culture and languages of all the riders from different countries but I'm slowly getting used to it.
MH: How do the bikes in the EJC compare to what you have ridden before?
CL: The bikes I have ridden back in New Zealand have not been of as higher specification as the Honda CBR500ccR. For example, I have never had full race suspension on my bike before. Back home I ride a CBR600 which is a lot more powerful than the EJC bikes but the 500 is so much fun to ride.
MH: You mentioned the difference in the European circuit compared to those back in New Zealand?
CL: Yes! The circuits in New Zealand aren't as high standard as the tracks over here because back home road racing is not a major sport and there is not a lot of money to be put into the tracks or facilities. I still love the tracks back home and always will but in Europe they are much faster and flow a lot more.
MH:  What is your target for the remainder of the 2013 season?
CL: I have been improving ever since we got here. My goals are mainly to just keep moving forward at every round of the EJC which has been happening. I want to finish inside the top 15 in EJC and to score consistent points as soon as possible but to learn I must finish every race. For the championship in Italy we have been fast in the opening races so my aim is to win it!
MH:  Monza was by far your best EJC performance so far, what do you put that down to?
CL: I was really looking forward to Monza and I had a lot of focus. I also I had help and advice from Simon Crafar at Motovudu which has been amazing and helped me so much. I can't really put it down to one thing because I had a lot of support and help from a lot of people which helped me to finish where I did.
MH: Why number 99?
CL: When I first started racing I had to choose a number and I choose the highest number there was, which turned out to be 99 so I went with that. It's my number now and one day it's going to be number 1, well hopefully.
MH: What is it like being living in Europe?
CL: We have based ourselves in Italy and not in an English speaking country so it is a lot harder because we can't really speak Italian and we have to adjust to this life style.  It's hard for my parents trying to work from their lap tops and cell phones but Dad will sometimes go back home for work. If we were to fly back and forth from New Zealand it would be harder because I am also racing in the Kit3 championship in Italy and it would end up costing more.  Constant traveling with a 40 hour flight would also get very tiring for all of us!
MH: Who have you made the closest bond with in EJC so far?
CL: Well I have become great friends with Jake Lewis and his Dad Rob who have been helping me out and giving advice on riding. Paul Bergman, who is a mechanic for EJC, is a friend from New Zealand who was my mechanic back home on my 600 so I am naturally close to him but I have made friends with a lot of new, cool people and will no doubt meet many more.
Anyone seeking further information about Connor or the JETS program should email Phil London: phil.london@pqs.net.nz or contact Michael Hill Promotions directly.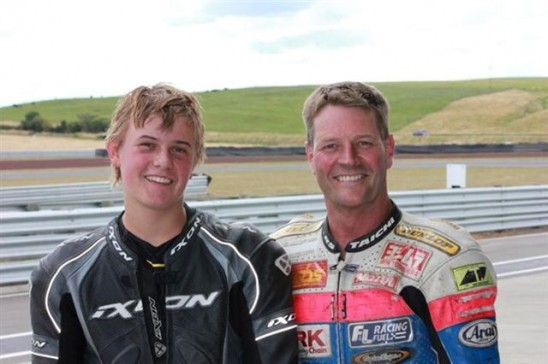 Connor poses with former World Superbike Champion Fred Merkel who is also taking an interest in the youngster's career.