Jack Kennedy put on a brave but determined display in the 6th round of the World Supersport championship at Portimao this afternoon.
Starting from 7th, the Rivamoto Honda rider made an impressive start and was soon up to 5th closing in on the podium battlers.
He eased his way up to 4th on lap three and then settled into a rhythm which enabled him to pull a small gap over the chasing group.
At the half way point, the top six had moved a couple of seconds clear and Jack became embroiled in a fight with Michael Van Der Mark and Sheridan Morais.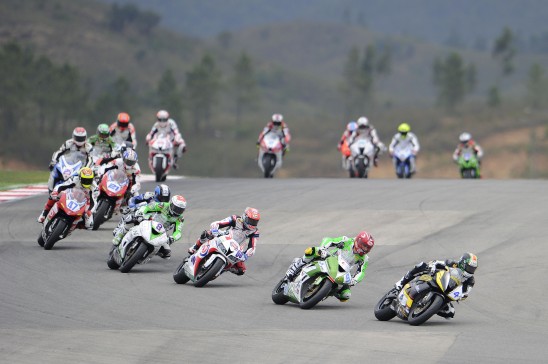 In some discomfort from his knee injury, Jack was unable to keep up the frantic pace at the front but rode remarkably under the circumstance to bring his CRB600cc home in 6th, equalling his career best result from Donington.
The result moves Jack up the overall world championship standings into an impressive 8th position overall in his debut World championship season.
Rivamoto's other rider Edik Blokhin also had a good race finishing 26th.
Jack Kennedy – 6th position: "I got a good start and was up where we needed to be in the front group. When Van Der Mark and Morais came past I pushed to go with them. I held on for a few laps until I made a small mistake. Once I knew they had gone, I pretty much controlled the race by reading my pitboard. I knew there was a group behind but I really wanted 6th. I was lacking a bit of confidence and my knee was pretty sore but it's been a great weekend. The Rivamoto Honda has worked well once again and the team have been fantastic."
Jeremy McWilliams – Team Manager: "We are all stoked. Jack has once again delivered a great result and this time carrying an injury. I'm more excited though with how close we are getting to the front. Less than 10 seconds from the win at one of the toughest circuits that we go to gives us something to celebrate. The whole Rivamoto team have been brilliant, and to have two riders finishing is another good day."