A mid-session collision with a kerb as he tried to pass eventual Pole Sitter saw Rivamoto Honda's Jack Kennedy slip from a provisional 3rd to 7th on the grid for tomorrow's 20 lap World Supersport championship race in Portimao, Portugal.
After securing 3rd yesterday the flying Dubliner was once again lightning quick in this morning's free practice and was feeling good ahead of final qualifying.
Kennedy pushed hard to clock up an identical lap time early in the session on a used set of tyres but was unable to match it on his first soft tyre run. After changing tyres once more Jack was unlucky to collide with Sam Lowes (who was on an out lap) and did well to stay aboard his Honda although, as he found out to his detriment, the kerbs in Portugal are high.
Clearly in pain when he returned to the garage, the team were unsure as to whether Jack would return to the track but such is the Irishman's determination take to the track again he did.
With just under 2 minutes to go Jack would once again match his session best but was unable to improve further as a flag marshal into turn one, incorrectly showed the chequered flag cutting short his session.
Despite being bumped onto row three, the team are looking forward to tomorrow's race and are confident that Jack will once again put up a good fight.
Grid Position: 7th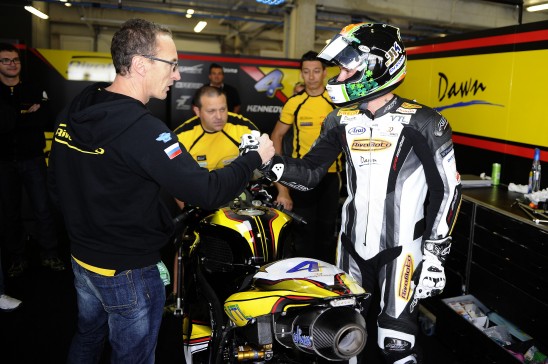 Jack Kennedy: "It was a hectic session. I couldn't find any clear track but still managed to match my best time on a used tyre. I came in, but had some big moments when I went back out on a new tyre. We came in again and changed to the soft tyre and then I tangled with another rider who was touring and caught my knee on the kerb, I had to pull in with the pain but we did go back out but was unlucky with the flag marshals not to get a final flying lap. I am looking forward to the race If we can just ease the pain in my knee a bit."
Jeremy McWilliams – Team Manager: "That was unlucky. We were in the wrong place at the wrong time. Sam didn't see Jack was there and they touched. Jack did well to stay upright but he caught his knee on the kerb. He gave it another go and equalled his time after pitting to catch his breath but just ran out of time. Sometimes  you need a bit of luck and today we were just unlucky. I think he is more annoyed with missing the final lap than the injury to his knee, but then that's Jack. We have a good race pace and I am sure we will be stronger again in the race."