Cold, damp and changeable conditions greeted the riders on the opening day of the 2nd round of the UEM Superstock 600cc Championship at Assen in the Netherlands.
American teen Brandon Kyee was optimistic of his chances this weekend, and with light rain falling he took to the track for Free Practice at 9am. The session was over almost before it had begun when the youngster from California slid to the floor at turn two on his opening lap. He was fortunate enough to be able to remount with nothing more than a few scratches to the bike's bodywork and continued to ride for the remainder of the session with a confidence that enabled him to shave seconds off his times with every lap. He ended the opening free practice session in a very encouraging 10th position and was very happy with the set-up of his SCHACHT Racing Honda.
By the time qualifying arrived there had been a downpour at the Dutch circuit and the track was completely wet. After the session was initially stopped after 5 minutes when several riders crashed, Brandon was making good progress and running inside the top ten when he too slid into the gravel at turn two. Brandon was thankfully unhurt but the bike was too badly damaged for the team to repair it within the session. With twenty minutes to go the red flags went out again as the weather caught out yet more riders. The fourth red flag came with nine minutes to go as more riders tumbled. In total more than 16 riders crashed within the session as the weather made it practically impossible to stay on two wheels.
Pole Position was eventually taken by Aragon race winner Gauthier Duwelz from Belgium with Brandon finishing just outside of the qualifying maxima meaning he has it all to do in tomorrow's (hopefully dry) final session.
Brandon Kyee – SCHACHT Racing: "I am disappointed with how things went in qualifying. This morning was great, I felt very comfortable and I was very happy with the set-up of the bike. This afternoon the bike was again great but when I opened the gas in turn two I just lost the rear and fell again. I am unhurt and the team will fix the bike for tomorrow so we will do our best to stay upright, have a good qualifying and a solid race."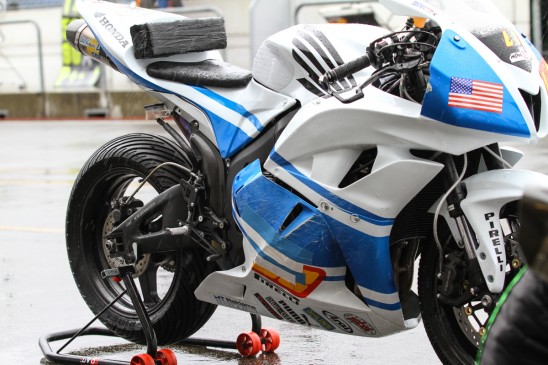 Free Practice: 1.56.576 (10th), Qualifying 1: 2.20.48 (DNQ)
Final qualifying will take place tomorrow at 1145 local time. The race is scheduled to start at 1800 over 12 laps.