An overcast and cloudy 8th round of the Superbike World Championship saw Team Hero EBR notch up another race finish as Aaron Yates brought his EBR1190RX machine home in 18th in race one before retiring from race 2.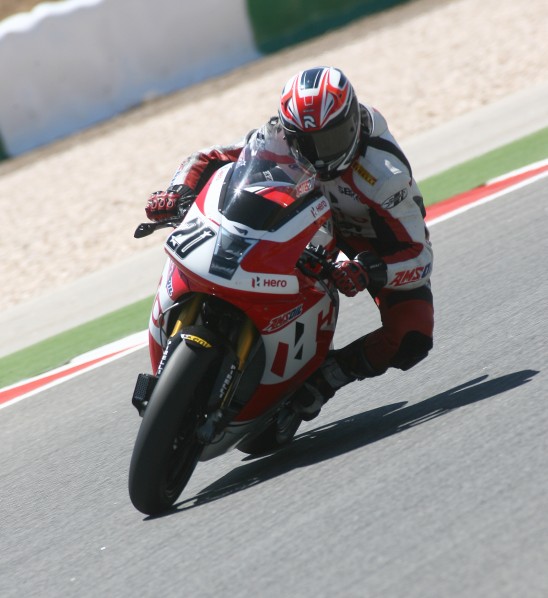 Race one saw him battling hard for the entire 20 lap race with both Team Toth BMW riders, eventually finishing 18th on the road after winning his own personal fight. The race included the marshal waving white flags to all riders as rain began to fall for a few moments before half distance. Thankfully the clouds passed allowing the race to continue uninterrupted.
Race two however couldn't have been more different with progressively heavier rain beginning to fall on the Portuguese circuit. Aaron started from the back of the grid and despite posting some respectable lap times in comparison to those around him, retired early in the race.
Starting once again from the pitlane (as in Misano) to avoid a similar penalty at the upcoming Laguna Seca event, Geoff May retired from both races although the number 99 rider complete more laps than in the first encounter, keen to get some wet weather testing under his belt.
Geoff May – "It's no secret that we are onto engine ten with five races to go. It is impossible to do anything here from the pit lane so we chose to save our engine. We accomplished what we needed to this weekend in terms of testing the new parts and the results were pleasing so we move on to Laguna next week where I won't need to start pit lane."
Aaron Yates – "I am happy to be able to bring it home and finish race 1. We made yet more steps with the suspension so I am looking to move even further forward at Laguna."

18° posto per il Team Hero EBR a Portimao
Un cielo coperto e nuvoloso ha fatto da scenario al round numero 8 del Mondiale Superbike, corso questo pomeriggio sul circuito di Portimao, in Portogallo. Al termine delle due manche di gara, Il Team Hero EBR ha raccolto in totale un 18° piazzamento finale grazie alla prestazione di Aaron Yates, costretto al ritiro durante Gara 2.
Gara 1 ha visto Aaron Yates lottare duramente per tutti i 20 giri di gara insieme ai piloti del Team Toth BMW, concludendo in 18° posizione finale dopo aver vinto il proprio personale duello con gli avversari.
Durante la manche di gara è stata esposta la bandiera bianca per via della pioggia che cominciava a cadere, fortunatamente le nuvole si sono diradate e la gara ha potuto continuare ininterrotta.
Gara 2 si è corsa in condizioni meteo completamente differenti, con una pioggia battente che ha cominciato a martellare duramente il tracciato portoghese. Aaron è partito dalle retrovie e, malgrado abbia condotto alcuni passaggi con tempi simili ai propri rivali, è stato costretto al ritiro nelle prime fasi di gara.
Partito ancora una volta dalla Pit-lane (come a Misano) a causa della penalità per l'utilizzo di un nuovo motore, Geoff May si è ritirato dopo pochi giri da entrambe le gare per salvaguardare il motore in vista della gara di Laguna Seca. Il pilota americano ha sfruttato l'occasione per testare il setup della sua EBR 1190RX in condizioni di pioggia intensa.
Geoff May: "Non è un segreto che utilizziamo il motore numero 10, con ancora 5 gare da disputare. Non ci sarebbe stato possibile fare poi molto qui a Portimao, partendo dalla pit lane, per cui abbiamo preferito salvaguardare il motore. Abbiamo ottenuto quello che volevamo da questa gara in termini di test sui nuovi componenti e siamo piacevolmente soddisfatti dai risultati, così adesso siamo pronti per Laguna dove non sarò costretto a partire dalla Pit-lane."
Aaron Yates: "Sono felice di aver potuto lottare fino alla fine in Gara 1. Abbiamo fatto dei passi in avanti con le sospensioni così spero di poter andare meglio nella prossima gara a Laguna."