After the disappointing news that Geoff was unable to take part in either of today's two races in Sepang due to an ongoing electrical problem, Aaron Yates was the sole rider representing Team Hero EBR in the heat and humidity of Sepang bringing his EBR1190RX machine claiming a pair of encouraging results.
Race one saw Aaron dicing with several riders, eventually finishing in 16th at the flag, our best result of the season and just missing out on our first championship point.
Happy with the performance and the reliability race two saw an equally satisfying race with Aaron finishing a respectable 16th, and narrowly missing the team's first ever World Championship point after another gruelling race in the heat and humidity. The race was initially red flagged after 3 laps after Claudio Corti's MV Agusta expired by which time Aaron had moved into 25th and was involved in a fight with both of the Team Toth BMW machines.
A ten lap restart was without incident, allowing Aaron to claim a double finish with 20th at the flag.
The entire team are buoyed by this double result, and whilst of course disappointed that Geoff had to miss both races they move to Misano in a fortnight with optimism.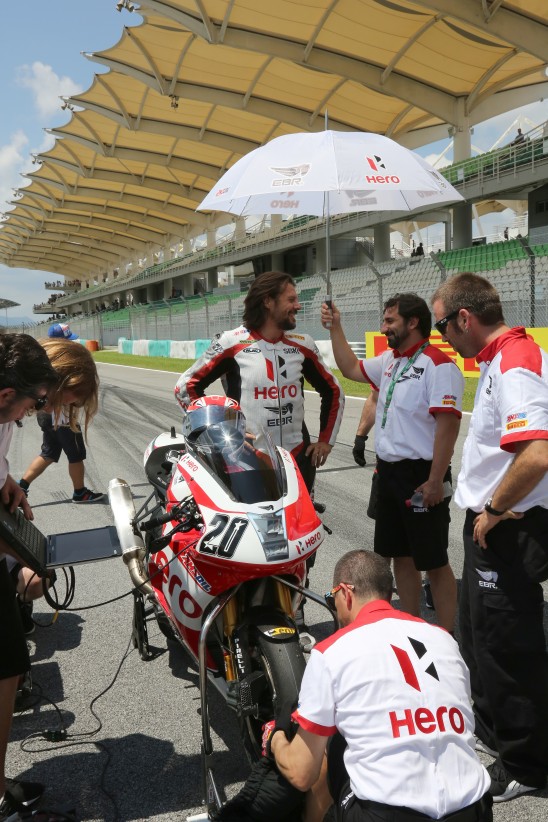 Aaron Yates: "It's hard to keep focused with nobody to follow, but after the riders I was fighting with in race one stopped I was left on my own. 16th is the best result of the year but it would have been nice to get the elusive first point. Race two I had a good battle with the BMW's and we can go to Misano satisfied with our double top 20 finishes and ready to push for the next step forward."
Despite being unable to compete in the races, Geoff was still buoyant about his Malaysian experience.
Geoff May: "The track is so much fun to ride, obviously I am disappointed at not being able to ride but we have to keep in mind that this is a new campaign, a new bike and our development year! We know what the issue is and we have things coming over the next few races. Things don't happen overnight but we will get there and we have to keep focused like we have been and moving forward."
Il Team Hero EBR conquista due conclusioni in Top 20 a Sepang
Dopo la deludente notizia che Geoff non avrebbe preso parte alla gara per via di alcuni problemi elettrici, Aaron Yates è stato l'unico pilota a rappresentare il Team Hero EBR nel caldo e umido circuito di Sepang, portando la sua EBR 1190RX a conquistare due risultati incoraggianti.
Gara 1 ha visto Aaron lottare con diversi piloti e concludere in 16°posizione sotto la bandiera a scacchi, ottenendo il miglior risultato di stagione e mancando di un soffio il primo punto in classifica stagionale. Soddisfatto dalle prestazioni e l'affidabilità della sua moto, Gara 2 ha visto Aaron Yates terminare in 20° posizione la sua manche. La gara è stata inizialmente interrotta per Bandiera Rossa a causa di una rottura alla moto di Claudio Corti, proprio mentre Aaron Yates passava in 25° posizione e veniva coinvolto in una bagarre con entrambe le moto del Team Toth BMW.
Gara 2 è ripartita con soli 10 giri da compiere e non si è verificato alcun incidente, permettendo ad Aaron Yates di ottenere un doppio finale nella Top 20 . L'intero team è soddisfatto da questi risultati e, sebbene sia ovviamente deluso dal fatto che Geoff non ha potuto prendere parte alle due gare, l'intera squadra guarda con ottimismo al prossima gara di Misano.
Aaron Yates: "è dura restare concentrati mentre non si ha nessuno da riferimento e quando i due piloti con cui stavo combattendo si sono fermati sono rimasto da solo. 16° è il miglior risultato per questa stagione ma sarebbe stato bello aver afferrato il primo punto in classifica. In gara due ho affrontato due belle battaglie con i piloti BMW e possiamo andare a Misano soddisfatti del doppio risultato in Top 20. Siamo pronti per spingere ancora più forte."
Malgrado non sia stato in grado di correre le due gare, Geoff May rimane fiducioso dopo l'esperienza malese.
Geoff May: "La pista è molto divertente e sono ovviamente dispiaciuto dal non aver potuto correre entrambe le manche. Ma dobbiamo ricordare che questa è un'avventura totalmente nuova per noi, con una nuova moto e tutto un anno per svilupparla. Sappiamo qual è il problema e abbiamo nuove parti da provare nelle prossime gare. Le soluzioni non si trovano in una notte, dobbiamo restare concentrati come adesso e andare avanti."
photos courtesy of Kel Edge.