The opening day of on track action at Donington Park in the UK saw Team Hero EBR riders Aaron Yates and Geoff May continue to close the gap to leading riders.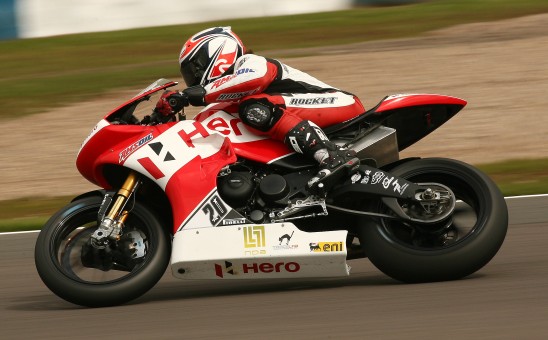 In addition to the iconic British circuit being new to both riders, all three Free Practice sessions that would determine the participants in Tissot-Superpole tomorrow were run today in cold, overcast and constantly changing weather conditions which added to the set-up challenge.
After overnight rain, the opening session saw both EBR 1190RX riders soon up to speed at the circuit where the World Superbike began in 1988.
At the end of the three 45 minute sessions Aaron missed out on Tissot-Superpole by a little more than half a second. Geoff on the other hand was hampered by an electrical problem leaving him in 25th position but with the chance to improve tomorrow.
Aaron Yates:  "After a few laps I had a good feeling both with the track and the bike. I especially appreciated the traction control. I had some little problems with setting up the brakes in the last two sessions and I could not improve as much as I wanted. Anyway I really look forward to racing on this track on Sunday."
Geoff May: "We worked hard all the day but I had to spend all my time learning the track and improving the set-up of the bike. I am sorry an electrical problem stopped me from riding the last session but I really hope tomorrow we can make some further improvements."
Il Team Hero EBR si avvicina alla Tissot-Superpole a Donington Park
La giornata di apertura a Donington Park, in Inghilterra, ha visto i piloti del Team Hero EBR Aaron Yates e Geoff May continuare a ridurre il gap dai piloti di testa.
Oltre al fatto che lo storico circuito inglese era completamente sconosciuto hai due piloti, tutte le sessioni in pista, valide per la qualifica nella Tissot-Superpole di domani, si sono corse in condizioni di meteo assolutamente variabile, il che ha reso ancora più complicato il lavoro al setup della moto.
Dopo la scrosciante pioggia notturna, la sessione di apertura ha visto entrambi i piloti portare velocemente a regime le due EBR 1190RX, in quello stesso circuito dove la Superbike ha iniziato la sua attività nel lontano 1988.
Al termine dei tre turni da 45 minuti ciascuno Aaron ha mancato l'ingresso nella Tissot-Superpole per poco più di mezzo secondo; Geoff, dal canto proprio, è stato ostacolato da un problema elettrico che lo ha lasciato in 25° posizione ed adesso è determinato a fare del proprio meglio per migliorarsi nella sessione di domani.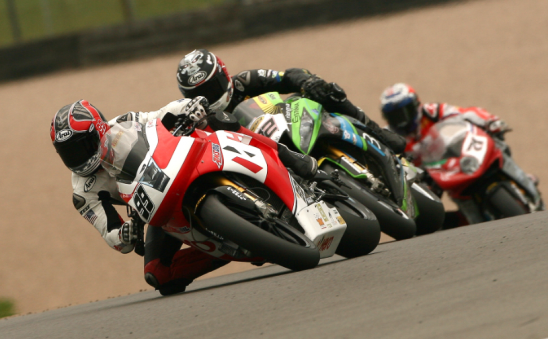 Aaron Yates: "Mi sono bastati pochi giri per familiarizzare con la nuova pista e trovare un buon feeling con la moto. In particolare, ho molto apprezzato il lavoro sul traction control. Ho riscontrato qualche piccolo problema alla messa a punto dei freni e durante le ultime due sessioni non ho potuto migliorarmi di molto. Ad ogni modo, non vedo l'ora di poter scendere in pista per la gara di Domenica."
Geoff May: "Abbiamo lavorato duramente per tutta la giornata e ho speso tutto il tempo a disposizione per imparare la pista e migliorare il setup della moto. Mi spiace che un problema elettrico mi abbia messo fuori gioco all'ultimo turno, spero davvero che domani riusciremo a migliorare ancora di più."
photos courtesy of Kel Edge.