The fourth round of the PATA European Junior Cup powered by Honda got underway in cloudy but thankfully dry conditions at Donington Park near Derby in the UK earlier today with the first Free Practice and Qualifying sessions.
CADS Racing rider Alex Wisdom put the difficult weekend at Imola behind him to secure his best qualifying position so far this season after an impressive afternoon on track in both sessions.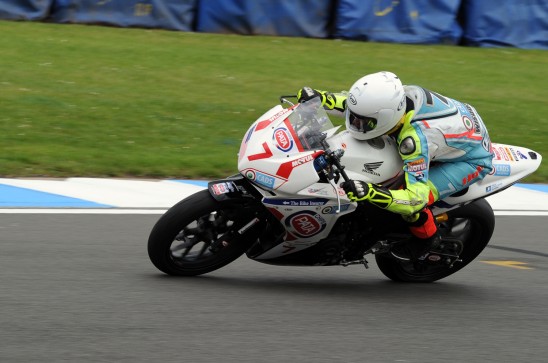 The American teen who graduated from high school yesterday, after home schooling himself to race in Europe, put in a confident performance to narrowly miss out on a top ten position by the smallest of margins.
Looking ahead to tomorrow's final session, Alex is confident of further improvement after discussing with the team areas that he can find those all important tenths of a second. The team also uncovered some small technical changes that they will make overnight that should help Alex in final qualifying.
Alex was also invited to join the stars of World Superbike on stage for the annual charity auction yesterday and auctioned a set of gloves and boots that he wore to claim his maiden European Championship point at Monza last year.
Alex Wisdom – CADS Racing: "It was a solid session today. There is still room for improvement but I am happy with the outcome and am ready for tomorrow. The times are close and I feel that I can run with the group at the front which is important. Thanks to everyone for their support, especially yesterday at the Riders for Health charity auction."
photos courtesy of Andrew Hartley.