Fabio Menghi and the VFT Racing Team continued their 100% record of point scoring finishes in 2014 after racing to 6th position at the end of an exciting 17 lap World Supersport race in Imola.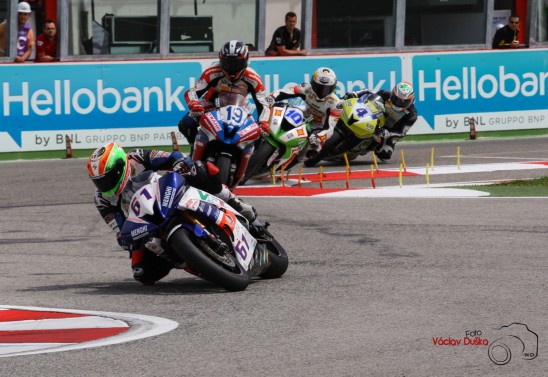 Moving up to 9th from his starting grid slot of 13th, the Italian initially battled hard with Kevin Wahr, Jack Kennedy and fellow Italian Alessandro Nocco, before a late surge saw him slice through the bunch of riders ahead to claim a career best World Championship finish in front of an appreciative crowd.
Menghi and the entire team were jubilant at the result and the whole team move on to Donington Park in a fortnight with renewed self-belief and confidence.
Fabio Menghi – 6th position: "We had a good strategy this weekend which we were able to benefit from today. I made a good start and I knew I just had to stay calm as we would have a chance towards the end. I am really happy with this result and I want to say a huge thanks to my entire team and all of our sponsors. I like racing in Imola and it was great to hear the fans at the end of the race. We can be excited about the rest of the season now."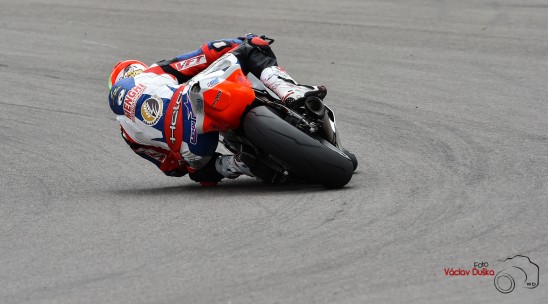 Menghi conquista il suo miglior risultato in gara ad Imola
Fabio Menghi e il team VFT Racing continuano il proprio record di punti guadagnati in gara della stagione 2014, dopo aver raggiunto la 6° posizione al termine di una emozionante gara di Supersport corsa quest'oggi ad Imola.
Fabio è scattato dalla 13° posizione in griglia di partenza ed ha subito sorpassato qualche avversario fino ad arrivare al 9° posto; poi ha cominciato la battaglia con Kevin Wahr, Jack Kennedy e Alessandro Nocco, Riccardo Russo e Marco Bussolotti, finché non è riuscito a sorpassarli tutti ottenendo il proprio miglior risultato nella categoria Supersport.
Fabio e il suo team sono contentissimi del gran risultato e non vedono l'ora di arrivare a Donington Park per continuare a dimostrare il loro potenziale.
Fabio Menghi: "Questo fine settimana abbiamo seguito una buona strategia che ci ha permesso di goderne I frutti nella gara oggi. Ho fatto una buona partenza esapevo che dovevo solo stare calmo ed aspettare di attacare verso la fine della gara. Sono molto contento di questo risultato e voglio ringraziare tutto ilteam e gli sponsor. Mi piace correre ad Imola ed e' stato fantastico sentire il tifo alla fine della gara. Sono molto fiducioso per il resto della stagione".
Photos courtesy of Vaclav Duska Jnr.