VFT Racing arrived at the historic Imola circuit, the first of two 'home' races for the Italian team ready to push for their best 2014 result to date after securing points in each of the opening three races of the season.
Today's two Free Practice sessions were held in sunny and hot conditions and after a couple of small problems, Italy's Fabio Menghi concentrated on race performance ahead of tomorrow's all important qualifying session.
Happy with the position considering the agenda for the day, Menghi is optimistic of a stronger showing in official qualifying tomorrow.
Fabio Menghi – VFT Racing: "This morning we had some small problems. We will continue to work on a solution for tomorrow but I am not too disappointed as we decided to work on a set-up for the race in the afternoon session. If we can improve step by step then I am sure we can achieve a good position on the grid."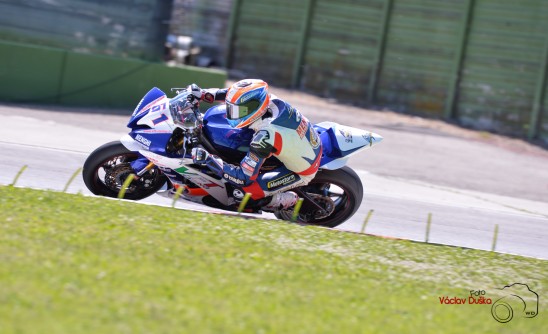 ITALIAN VERSION
Il VFT Racing 'e arrivato all'emblematico circuito di Imola, il primo dei due appuntamenti italiani della stagione e il team e' pronto a dare il massimo per raccogliere il miglior risultato della stagione fin'ora, dopo aver raccolto punti in tutte le gare del 2014.
Le due sessioni di oggi si sono disputate con condizioni climatiche ideali e dopo due piccoli problemi, Fabio Menghi si e' concentrato sul passo gara prima del turno di qualifiche di domani.
Menghi e' soddisfato del lavoro svolto oggi ed e' fiducioso di poter ottenere un buon risultato nelle qualifiche di domani.
Fabio Menghi – VFT Racing: "Questa mattina abbiamo avuto qualche piccolo problema. Continueremo a lavorare per trovare una soluzione per domani pero' non sono deluso visto che abbiamo deciso di lavorare sul set-up per la gara nel secondo turno. Se miglioramo passo a passo sono sicuro che possiamo ottenere una buona posizione in griglia."