American teenager Alex Wisdom, who is back for his second season within the ultra-competitive season PATA European Junior Cup, had a positive opening day to his 2014 campaign taking 13th position in the first free practice session of the year.
Having spent Monday and Tuesday at the official EJC training camp at Alcarras, the youngster who will be based in the UK during the season was instantly in the groove, and looked comfortable aboard his CBR 500cc Honda.
The format at each of the seven events is the same, with EJC riders having a free practice session on Friday, an official qualifying session on Saturday and a race on Sunday.
There were a number of positives to be taken from today's free practice session including the face that after just 4 laps, Alex had bettered his best 2013 lap time, and by the end of the session was almost 3 seconds faster than last year. After using his 2013 settings as a base, Alex is confident of further improvements in the qualifier tomorrow which is scheduled to run for 30 minutes, starting at 1315 local time.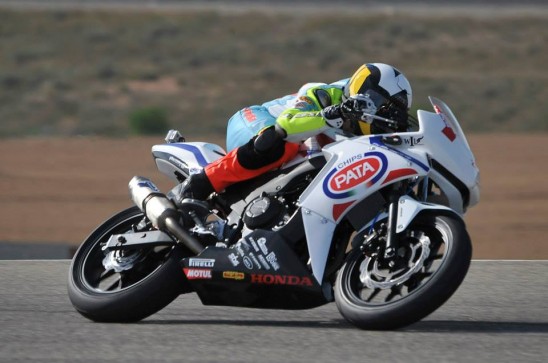 Alex Wisdom – CADS Racing: "I am confident with the progress that we made in the session. There is room for improvement but I know where I can find some time. I think I could have made a 2.28s lap but I had to pass some traffic on my last lap. We had a plan for the session and we exceeded it so I am pleased with that and I am looking forward to qualifying."