After the disappointment of being unable to contest the latest round of the FIM Stock 1000cc Cup at Silverstone due to an injury to their full time rider, the Hungarian H-Moto team drafted in talented rider Robert Muresan to race for them in the Romanian Superbike championship instead.
Now in his early 20's, Muresan is no stranger to top level competition having ridden in both Grand Prix (on a 125cc) and in the prestigious World Supersport championship in recent years. That said he had only ridden a handful of laps on a 1000cc machine before and not in race conditions, so nobody expected the victory.
The two superbike championship races were held in almost perfect conditions with some difficult oponents for the young Romanian to contend with. Nevertheless, Muresan rode superbly giving the H-Moto BMW it's first international victory, much to everyone's delight.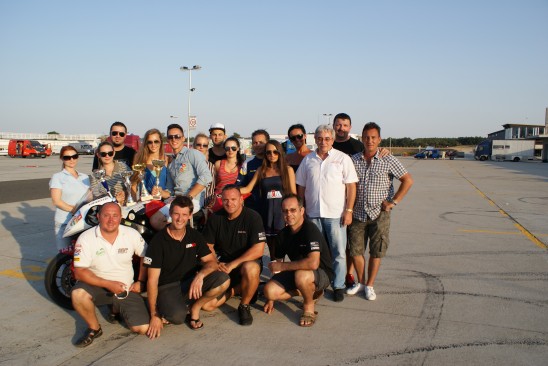 Kristian Keleman – Team Manager: "This result is fantastic for everyone in the team and proves we have a good package. I am happy that our technicians rose to the challenge of working with a new rider and I cannot thank Robert enough for his commitment and professionalism, it would be great to work with him again in the future. We must continue to work hard for the rest of the season and we all wish Alen a speedy recovery."
Robert Muresan – Double Race Winner: "I knew H-Moto from the FIM SuperStock 1000cc Cup, and I choose to ride with them after learning that their rider was injured and wouldn't race at Silverstone. Before the weekend I did not have a real goal. It was the first weekend on a 1000cc bike for me so it was just for fun and as a test at the beginning. After a perfect weekend I had the pleasure to leave the track with two victories in this international race, after passing some very important riders. I got a good feeling for the BMW 1000 RR bike, it was a real pleasure to ride. I owe most of this result for the team, they made a very good job and we managed to understand one another very good even though we had to translate some things, but all I have to say is a big THANKS to the team for this great weekend. It would be very hard for me to compare the bike with something else because It was my first 1000cc bike, but from what I feel I think it is a competitive bike for whatever championship. The BMW is a pleasure to ride from my point of view even though you have to learn the chassis well before you can drive it to its full potential, but on a scale from 1-10 I will give it a 9,6."
H-Moto are now exploring avenues to allow them to continue to work with Robert again in the future, whilst their next focus is on the German round of the FIM Superstock 1000cc Cup at the end of August, where they are hoping Alen Gyorfi, their regular rider will be fully fit.