Jack Kennedy moved into 7th position overall in the World Supersport standings with a 7th place finish aboard his Rivamoto Honda in today's 9th round of the World Supersport championship at Silverstone.
Kennedy didn't make the best start, finding himself in 11th position after the opening lap, but in typical Jack style he was soon locked in a 9 rider fight for 3rd.
Jack was dicing with Fabian Foret until the Frenchman broke away mid race, Michael VD Mark and Florian Marino came together and ran wide. With a handful of laps to go Kennedy and his Rivamoto Honda looked like a top six finish was on the cards until Roberto Rolfo made his move demoting Jack to 7th.
Looking back over the race it's clear to see the overall improvement as Jack missed a podium finish by just 1.5 seconds, and improved his own personal best lap time of the Northamptonshire circuit by a considerable margin.
Today's result moves the Rivamoto rider into 7th position in the World Supersport standings, with the honour of being the top rookie in the series and first Honda home.
The team's other rider Edik Blokhin was 31st at the flag.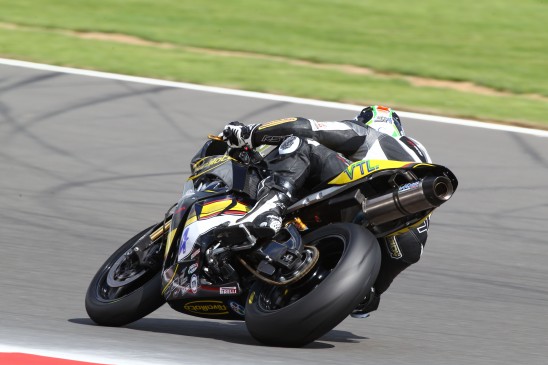 Jack's Kennedy – 7th position: "I made a bad start and gave myself a lot to do. I'm happy with the race performance, but I got left in limbo in the middle of the race. When Rolfo came passed it woke me up again and gave me a second wind and we almost caught the podium fight. My lap times were as fast as Sam on the same bike last year and we missed the podium by just over a second so yet again another great job by the team."
Jeremy McWilliams – Team Manager: "We have moved up a position in the championship and I am delighted to get another strong finish for the team. I think we just missed out a little mid race as we had a definite chance of a top 5 today looking at Jack's times at the end. Unfortunately Jack didn't get a great start and didn't have the best first lap but his best lap time was only 0.4 seconds slower than Kenan Sofuoglu who won so we can't be too disappointed. We were also less than 2 seconds from the podium and top Honda so there are a lot of positives that we can take away from this race. With Edik we also saw improvements throughout the weekend, his lap time improved in the race and continues to make great progress."
The next round of the championship takes place at the Nurburgring in 3 weeks.