Rivamoto were again the top Honda team in the World Supersport championship as Jack Kennedy propelled his CBR600cc machine onto the provisional front row of the grid in Portimao this afternoon.
The delight was clear for all to see when Kennedy returned to the garage to rapturous applause from his team after putting in another solid performance which surprised some team members given the undulating and challenging nature of the Portugese circuit.
Kennedy has only seen the Portimao circuit on one previous occasion in mixed weather conditions, making today's fast start even more impressive.
Kennedy was the early pace setter, easily matching his free practice time from earlier today in which he was second, and for the opening twenty minutes, nobody could match the hard charging Dubliner.
Reigning champion Kenan Sofuoglu and current series leader Sam Lowes were the only riders to get close to the flying Kennedy, and in the end it would be the three of them battling it out for Pole Position for the final 24 minutes.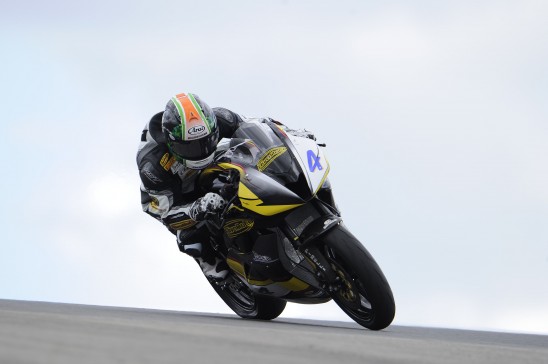 At the end of session the wind had increased and changed direction, which when coupled with a number of riders 'touring' prevented any further challenge. Nevertheless the team are satisfied with todays result.
Jack also spent some time trying different compounds of Pirelli tyre in an attempt to be in the best position come race day.
Jeremy McWilliams – Team Manager: "I feel like I am repeating myself but Jack has once again bettered our expectations by putting the Rivamoto Honda on the provisional front row. He looks like he isn't exerting himself. The bike is working well and I am surprised that we are so far up in the results, I didn't expect it so soon into the weekend. Portimao is renowned as one of the most difficult tracks on the calendar and Jack has once again surprised us all. We need to keep the momentum up but because we didn't just chuck tyres at it we have something left for tomorrow. We did that time on a race tyre so it keeps us all motivated. "
Jack Kennedy – Provisional 3rd on the grid:  "It's been a great first day. I'm happy that the rain stayed away but I surprised myself a bit. The Rivamoto Honda is good, the team are working well and I'm really enjoying it."