Rivamoto Honda and Jack Kennedy produced their best World Supersport championship result with a determined ride to 6th position in the 5th round of the championship at Donington Park this afternoon.
The result is all the more satisfying after the whole team worked flat out to solve a small fuelling problem which was uncovered in the morning warm up.
After battling hard for the podium in the early stages, Kennedys' charge forwarded was hampered slightly by arm pump which prevented a last lap attack. Nevertheless Jack has once again shown his speed and both he and the team are delighted to have secured today's result, their career best to date.
The team's other rider Edik Blokhin retired from the race when he overheated the clutch at the start but is looking forward to the next race in Portugal in a fortnight.
Jack Kennedy – 6th position: "It was a good battle throughout the race. I'm really happy to get our best result in World Supersport here at Donington. I gave it my all and the Rivamoto Honda worked brilliantly. Arm pump towards the last couple of laps kind of stopped me from trying something at the end but it's a great result and I want to thank the whole team. Roll on Portimao."
Jeremy McWilliams – Team Manager: "We are all delighted with the result. We were up against it after the problem in the warm up but the whole team worked hard to give us the best chance. It was nerve wracking so close to the race as we needed to test Jack's bike just before lining up on the grid. It's not ideal riding with no morning warm up session to check changes and tyres, but once again Jack did a great job. In light of everything, I am really happy to get today's result which is the best for team Rivamoto in World Supersport. Jack barely puts a foot wrong which is all we can ask for."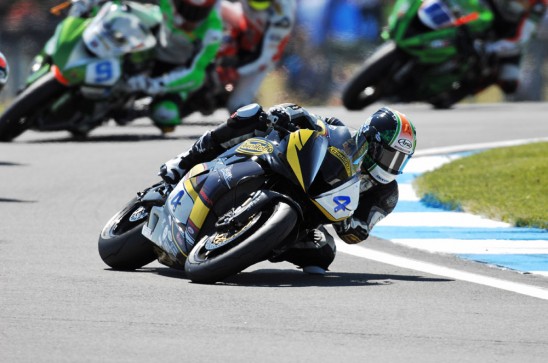 Today's result maintains Jack's 9th position overall in the World Championship standings after 5 races.