Flying Kiwi Jake Lewis put himself firmly back in contention for the PATA European Junior Cup title with a hard fought 3rd position finish at Monza in Italy yesterday.
Starting on the second row, Jake, who won the opening race of the season in Aragon, did well to avoid the falling riders into turn one before involving himself in a race long duel with ten stars of the future all eager to take victory.
The race was run over its original 7 laps, despite being delayed by more than 90 minutes due to earlier crashes in other races.
Lewis, showed no signs of nerves however and led the race on a number of occasions as the eleven rider dice at the front intensified.
Augusto Fernandez's crash with 3 laps to go could have split the pack but with slipstreaming at the historic Italian circuit so crucial, Jake found himself back in contention as the remaining ten riders began their final lap.
Coming out of the famous Parabolica curve and onto the final straight, Jake timed his move almost to perfection pulling out at the last possible minute from behind Robin Anne in an attempt to snatch victory at the line.
With the leading group of ten breaking the timing beam more or less side by side it took the official computer a few moments to determine the outcome and when it did, Jake would be classified 3rd less than 2 tenths of second behind Anne (who took the win) and Switzerland's Adrien Pittet.
Today's result confirms Jake as 2nd overall in the current championship standings, having closed the gap on Michael Canducci to just 2 points.
The European Junior Cup riders get a five week break now until things resume, again in Italy but this time at Imola.
RACE RESULT:
1st: Robin Anne (France)
2nd: Adrien Pittet (Switzerland)
3rd: Jake Lewis (New Zealand)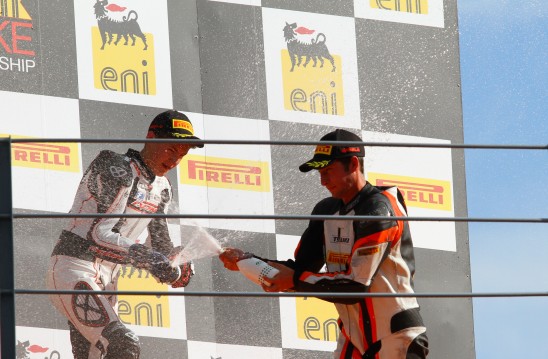 CHAMPIONSHIP STANDINGS AFTER 3 RACES:
1st: Michael Canducci (Italy) 43 points
2nd: Jake Lewis (New Zealand) 41 points
3rd: Robin Anne (France) 38 points