The final qualifying session at Monza ahead of tomorrow's 4th round of the World Supersport championship was frustrating for the Rivamoto Honda squad.
Jack Kennedy slipped down the order after a light shower of rain towards the end of the 45 minutes meant he dropped from his overnight 9th. He will line up 17th on the grid.
Edik Blokhin on the other hand improved his time and the Russian will start the race from 34th position.
Jack had been running just outside the top ten in the morning session and was unlucky to be caught out by the rain when he was pushing on his final run.
With weather conditions unpredictable for tomorrow, the team are confident that they challenge at the sharp end when the lights go out, given that Jack's pace in the earlier free practice session.
Jack Kennedy – 17th in qualifying: "It never came together when I needed it to. The rain put me off at the end of the session when I had a new tyre so I need to get a good start and use the slipstream. We can still get a strong points haul from here."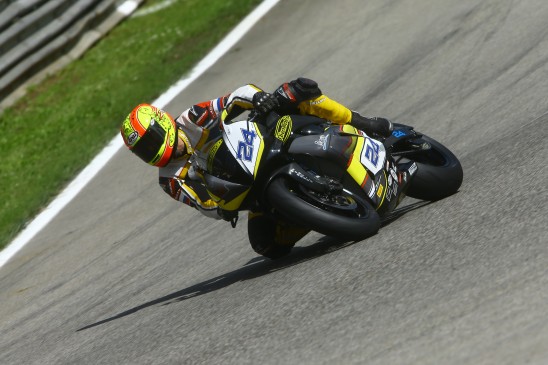 Jeremy McWilliams – Team Manager: "We just missed the window. It's so easy to get caught out but sometimes even the best strategies don't work. Monza is a track where making use of slipstream can give you a few tenths which makes the difference. Jack is still learning the track but we have hope from this morning's session when he was 11th. We need to get him into race mode now and make sure his head is right. It isn't a complete disaster as with Jack's determination we can still get some good points. Edik on the other hand is much more motivated in closing the gap to the front and we have seen that this weekend. He will start nearer the back but with both Rivamoto Honda's working well it makes things a little easier."