After a difficult and frustrating start to his 2013 FIM Stock 1000cc Cup campaign, H-Moto's Alen Gyorfi looks to have turned the corner with a hard charging ride to 13th on the provisional grid ahead of round 3 at Monza on Sunday.
The likeable Hungarian rider, who finished a career best 6th at historic Monza 12 months ago, looks to have sorted the technical and suspension issues that plagued him at the start of the season.
With the rain falling heavily this morning, Alen looked smooth and comfortable aboard his BMW, ending the 45 minute free practice in an impressive 9th position overall.
Qualifying was delayed by over an hour due to an earlier incident on track. When the track was finally given the all clear, Alen was circulating just outside the top twenty. Having made some changes, he ventured back onto the track stringing together two successive faster laps which lifted him to 13th position overall and only a fraction of a second away from a top ten grid slot.
The team will work hard overnight to understand better their new machine and with the knowledge from a test in Slovakia coupled with Alen's feedback today, they are confident of challenging for a higher starting position in final qualifying tomorrow.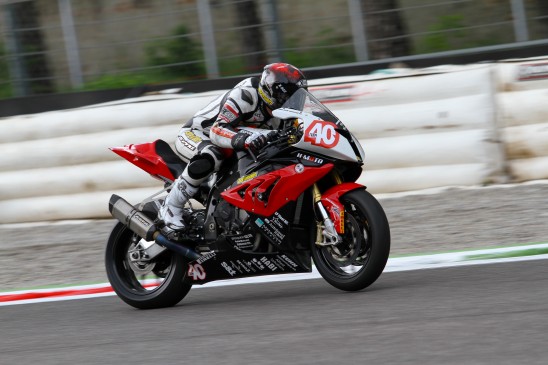 photos courtesy of Vaclav Duska Jnr.