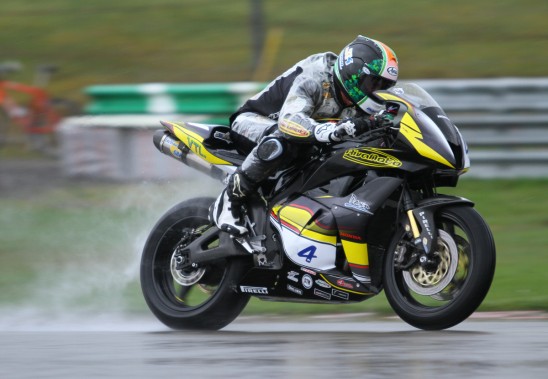 Building on a career best result in Aragon, Rivamoto's Jack Kennedy arrived in Assen full of confidence.
With the weather typically wet at the famous Dutch circuit, there was no surprise to find that conditions for the days two sessions would be cold and damp meaning set-up would be even more important than usual but Kennedy who finished on the podium here in BSB last year was optimistic of a strong qualifying performance.
With grip levels playing on everyone's mind and rain falling throughout qualifying, it looked as though Jack had left himself with an impossible task but the charger from Dublin saved his best till right until the end once again, moving into a provisional 15th on the grid in the dying seconds of the session.
More than 12 riders failed to finish the session after being caught out by the conditions so the Rivamoto team were  highly satisfied with today's result and are confident of further improvement with both of their riders tomorrow.
Jeremy McWilliams – Team Manager: "Today's qualifying session was all about damage limitation for us. The aim was to work on set-up and not chase a lap time. The riders at the top of the times today were really out on a limb but with no grip on the circuit and the conditions at their worst, we are happy to be in one piece and are happy with what we have achieved today with Jack. Edik had a couple of moments early on in the qualifying but he had a good session this morning and is happy with the setup that we have found for him. We are looking forward to tomorrow and are confident that we can improve with both of our bikes."
Jack Kennedy – 15th on the provisional grid: "It was really tough out there. It was so slippery especially in the first few lap and couldn't get any feeling for the bike. We tried a new setting and put a new tyre on right at the end which gave me a lot more feel and I managed to take a good chunk of time off right at the end. We aren't too far away from the top guys now but I am sure things will be different tomorrow but I'm looking forward to it."
Free Practice: Jack Kennedy – 12th – 1.50.999
Qualifying: Jack Kennedy – 15th – 2.07.000
Final qualifying for the 3rd round of the World Supersport championship will take place tomorrow at 1605 local time.