The only non-Spaniard competing in this year's Spanish Copa CBR250cc Honda Championship, Hunter Su had a break through in terms of results at the most recent round in Albacete last weekend finishing well inside the top 10 after securing a second row of the grid starting position in 5th.
The youngster who following the series finale at the Calafat circuit this coming weekend will fly to Sepang in Malaysia to try out for the Asia Talent Cup was on fire from initial practice, recording his best result of the year in style.
Buoyed after the success in Saturday's opening race Su suffered an unfortunate crash during Sunday's warm up session ahead of race 2 and was unable to take part in the day's encounter.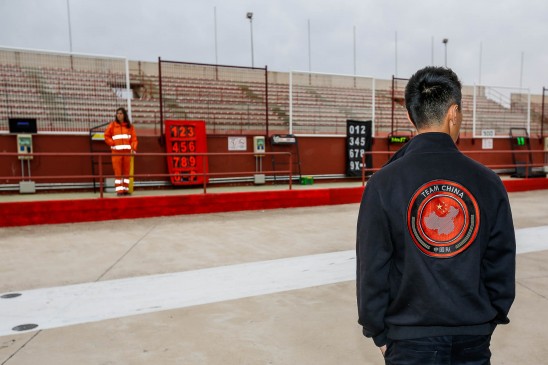 Despite the race 2 no score, Hunter has increased his points tally and is understandably confident ahead of the final races at Calafat.
Hunter Su – Team China: "This past weekend has been the best race experience I have ever had! I've finally learned how to truly study the racetrack during the practice sessions with a calm mind and give it 100% full out for the race. We did some great testing and had a great set up when we arrived so we didn't need to touch the bike other than changing tyres during the Friday practice sessions. Saturday morning's qualifying session was wet. I was super nervous as I hadnever ridden on a full wet track before. It sounds funny but I thought about what Bruce Lee said "be the water", and surprisingly it seemed to work. I found myself being one of the fastest qualifiers ending up on the second row in 5th position – my best qualifying of the season. With a 5 hour gap between qualifying and race 1, the track was totally dry but after a good start I was in the leading group. With a lack of experience on battling when people passed me really aggressively, I didn't know what to do but I soon realised that if you are aggressive back it works. At the end of the race my best time was 0.1s slower than the leaders and I took the flag in the top 10. It was not the best way to end it, but I've learned a lot and I proved that I can be fast. Thanks to my Team China crew and everyone who has helped me this weekend."
To coincide with the Final round of the year Hunter has also recently launched an updated and fully interactive website with links to allow you to follow him on Twitter, Instagram and Facebook in addition to being kept up to date with his racing calendar through a series of reports, blogs and picture galleries: www.hunter-su.com